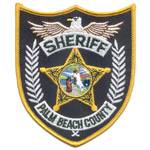 BOCA RATON, FL (BocaNewsNow.com) — A Pompano Beach man who walked in to the path of an oncoming car early Sunday morning in suburban Boca Raton has died, according to the Palm Beach County Sheriff's Office.
Investigators say that Victor Perry Riggs, 47, of 2700 NE 11th Terrace in Pompano Beach, walked off the median in the area of 20101 Lyons Road around 2am Sunday and was struck by an oncoming car driven by 18 year old Jason Rivera of Boynton Beach.
Rivera was driving northbound.
It's unclear why Riggs was originally on the median, or walked into the street as Rivera's car approached.
No charges have been filed at this time.
The investigation continues.
----------------------------------------
LYFT PROMO CODE
--------------------------------------
Use our Lyft promo code BNN123 for substantial discounts for your first Lyft rides. Enter the code in your app, or
 just click here
.
---------------------------
ABOUT BOCANEWSNOW.COM
-----------------------
BocaNewsNow.com is the leading hyper-local news website based in and serving Boca Raton, Florida and South Palm Beach County.
Our pages have been visited millions of times over our five year history of reporting, providing opinion and snark.
This is not a "mug shot" website. Arrest reports and mugshots are provided by law enforcement officials under Florida Statute. While we review all requests for removal, we are not obligated to remove reports that are a part of the public record.

When removal is appropriate, we do so at no charge. We do not accept payment for mugshot or arrest report deletion.

We remind our readers that an arrest is an accusation. Guilt or innocence is determined in a court of law. Email us at news (at) bocanewsnow.com or telephone 561-419-9520.

All Content Copyright © 2017 MetroDesk Media, LLC. All Rights Reserved.