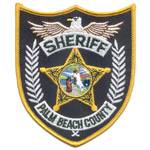 BOCA RATON, FL (BocaNewsNow.com) — A Pompano Beach man who walked in to the path of an oncoming car early Sunday morning in suburban Boca Raton has died, according to the Palm Beach County Sheriff's Office.
Investigators say that Victor Perry Riggs, 47, of 2700 NE 11th Terrace in Pompano Beach, walked off the median in the area of 20101 Lyons Road around 2am Sunday and was struck by an oncoming car driven by 18 year old Jason Rivera of Boynton Beach.
Rivera was driving northbound.
It's unclear why Riggs was originally on the median, or walked into the street as Rivera's car approached.
No charges have been filed at this time.
The investigation continues.
Content copyright © 2021 Metro Desk Media, LLC. All Rights Reserved. We vigorously protect our intellectual property and journalistic product. Broadcast stations must credit BocaNewsNow.com on air. Print must refer to BocaNewsNow.com. Online must link to BocaNewsNow.com. We have agreements with several organizations. Contact news (at) bocanewsnow.com. Call 866-4-FL-NEWS. Arrest reports are police accusations. Guilt or innocence is determined in a court of law.